All Non-food,Pet & Accessories lines that we represent in Florida.
A – B – C – D – E – F – G – H – I – J – K – L – M – N – O – P – Q – R – S – T – U – V – W – X – Y – Z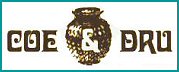 Coe & Dru are basket suppliers to those who make gift baskets. Stocking over 3,000 styles, they can also provide custom designs to fit your needs. They are a California company with a subsidiary in China so they can offer top rated California service with highly competitive China prices. They also outsource other packing containers and related merchandise including but not limited to baskets, boxes, galvanized trays, and wine accessories.Baskets can be made of wicker, birch bark, bamboo and more.
Buster Bones/Ham Bones, human-grade ingredient pet treats- gift boxed, Dog Lovers Gift Mug w/dog treats.
Our purpose is to enrich people's lives through the experience of fine tea and the Sip by Sip rather than Gulp by Gulp lifestyle… a life of health, balance and well being. We are the leading purveyor of full leaf teas and herbs in the world… respected for our unsurpassed quality and unequaled product selection. Presenting brew baskets, teapots, mugs and timers.